Fluid Energy Processing and Equipment Company, offers a flash drying system designed for agricultural chemical drying, the Model 14 ThermaJet.
The unit dries a heat-sensitive agricultural product to a final moisture level of below 0.5 percent. To accommodate operation in the presence of solvents, the Model 14 ThermaJet can operate with an inert gas recycling package using a steam-to-air heat exchanger. A condenser is included in the system to remove solvent and/or water vapor from the process air stream before recycling.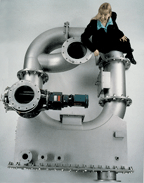 The system also includes a process blower, PC or PLC-based controls with instrumentation, a product collector and an exhaust fan.
The Model 14 ThermaJet can be designed to operate in a horizontal configuration to meet customer space requirements. Despite its unique configuration, the ThermaJet utilizes the same technology used in vertical ThermaJet systems. Low-pressure hot air is introduced into the dryer ring through nozzles, creating a high velocity, rotating air stream that rapidly sweeps the wet feed material into the drying chamber. The turbulent hot air quickly deagglomerates the feed stock and instantaneously flashes off moisture without allowing the product temperature to increase above a critical level.
Fluid Energy's Capital Equipment Division, the world's largest jet mill supplier, represents over fifty years of experience in fine particle process technology. Vigorous product development efforts, supported by a securely rooted background in its industry, have made Fluid Energy a leader in its field.
For more information, contact Fluid Energy at 4300 Bethlehem Pike, Telford, PA 18969; phone 215-721-8990; fax 215-721-2355; e-mail sales@fluidenergype.com.
e-xplorations.com provides us organic SEO services for manufacturing businesses & local online marketing