Fluid Energy Processing & Equipment Company has introduced the Model 00 Jet-O-Mizer portable grinding system. The Model 00 Jet-O-Mizer is a standard laboratory research and development package available on a purchase or rental basis.
The portable tray system of the Model 00 Jet-O-Mizer can process batch sizes from 1 to 300 grams while maintaining yields in excess of 95 percent. The tray system includes a mill, vibratory feeder with controls, piping and instrumentation. Filter bags are provided as a standard collection device, but additional collection options, such as a small sample collector, cyclone or tabletop HEPA filter, are available.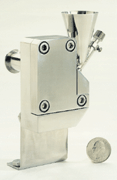 The Model 00 Jet-O-Mizer operates on 5 scfm of compressed air, medical grade bottled air, or bottled nitrogen. Easy to feed, the Model 00 Jet-O-Mizer produces no blowback problems. Initially designed for pharmaceutical use, the system can safely process valuable formulations for applications in the specialty chemical or mineral and pigment industries.


Fluid Energy's Capital Equipment Division, the world's largest jet mill supplier, represents over fifty years of experience in fine particle process technology. Vigorous product development efforts, supported by a securely rooted background in its industry, have made Fluid Energy a leader in its field.
For more information, contact Fluid Energy at 4300 Bethlehem Pike, Telford, PA 18969; phone 215-721-8990; fax 215-721-2355; e-mail sales@fluidenergype.com.