Fluid Energy Processing and Equipment Company, offers the Model 26 ThermaJet, a flash drying system designed for drying silicate.
Depending on the application, the Model 26 ThermaJet can process wet silicate cakes having an initial moisture of 35 to 65 percent initial moisture down to a final moisture ranging between 5 and 20 percent. Final particle size can be as small as 95 percent less than 10 microns.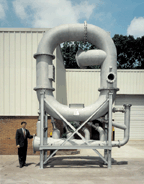 The ThermaJet system is designed with a separate hot air manifold with inlet nozzle expansion joints to allow operation at 1,300 degrees Fahrenheit. The unit can accept direct feed from a volumetric screw feeder, or through a rotary airlock. Additional system components include a process blower, a direct-fired natural gas air heater, PC or PLC-based controls, a reverse pulse bag collector and an exhaust fan.
Fluid Energy's Capital Equipment Division represents over fifty years of experience in fine particle process technology. Vigorous product development efforts, supported by a securely rooted background in its industry, have made Fluid Energy a leader in its field.
For more information, contact Fluid Energy at 4300 Bethlehem Pike, Telford, PA 18969; phone 215-721-8990; fax 215-721-2355; e-mail sales@fluidenergype.com.