Fluid Energy Processing & Equipment Company offers the Model 24 Micro-Jet application. The Model 24 Micro-Jet grinds fluropoymers to a particle size range of 10 to 15 microns at a rate of 2 to 4,000 pounds per hour.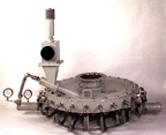 The Model 24 Micro-Jet system comes equipped with a feed impact chamber for reducing larger particles prior ro entry inot the mill.
The unit is constructed in type 304 stainless steel with replaceable nozzles and liners. Fluid Energy's Micro-Jet system has ground many types of fluropolymers including virgin and reprocessed grades.
Fluid Energy's Capital Equipment Division, the world's largest jet mill supplier, represents over fifty years of experience in fine particle process technology. Vigorous product development efforts, supported by a securely rooted background in its industry, have made Fluid Energy a leader in its field.
For more information, contact Fluid Energy at 4300 Bethlehem Pike, Telford, PA 18969; phone 215-721-8990; fax 215-721-2355; e-mail sales@fluidenergype.com.