Fluid Energy Processing & Equipment Company is proud to offer the ThermaJet Flash Drying System for Soy Products and other food processing applications. In today's health conscious society, many food processors and consumers are turning to soy as a natural additive for the food products they make and eat.
The ThermaJet system has been very successful in processing a wide variety of soy by-products into value-added ingredients for human consumption as well as animal feeds. For these processes, the ThermaJet system can be used to dry wet soy centrifuge or filter cakes into lump-free, discrete powders having less than 12 percent moisture. The original filter cakes contained moisture contents of up to 80 percent. Inlet operating temperatures were set to 1000 °F, while outlet temperatures measured around 250 °F.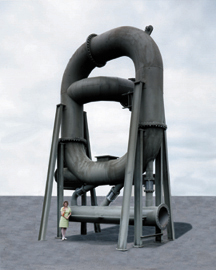 In soy processing applications, wet soy "cake" – similar in consistency to mashed potatoes – is blended with recycled, dry product to condition the feed into an easily conveyed material. The mixture enters the ThermaJet drying chamber through a rotary airlock.
Here, the blended feed is rapidly swept into the drying chamber by a high-velocity, hot gas stream. The turbulent hot air quickly deagglomerates – or breaks apart – the feed, vastly increasing the amount of surface area exposed to the drying fluid. This process facilitates the instantaneous heat exchange necessary for flash drying, while minimizing over-exposure of the product to heat, which can cause "toasting".
The ThermaJet employs centrifugal force to continuously recycle under-dried material back through the drying zone. The circular or "doughnut" shape of the ThermaJet flings the heavier, wet or lumpy material to the outside radius, while the dried, deagglomerated particles are pulled from the dryer by an exhaust fan.
The dried product is separated from the air stream by a cyclone, while exhaust gases (containing the fines) are passed through a dust collector or scrubber. A typical ThermaJet System encompasses a process blower, capable of delivering air pressures of up to 5 psig; a direct-fired, natural gas, air heater; a ThermaJet dryer ring; a cyclone; a baghouse and/or scrubber; an exhaust fan and PLC-based controls. The feed portion of the system utilizes a wet cake belt feeder, a dry product recycling feeder, a paddle mixer and a screw conveyor – used to transport dry recycled material from the product collection point into the paddle mixer.
ThermaJet Benefits
Eliminates the need for additional milling operations by simultaneously drying and deagglomerating the material into a fine, free-flowing, discrete powder
Prevents thermal degradation of products through shorter heat cycles
No internal moving parts minimize maintenance requirements
Product purity is maintained by using air deagglomeration instead of mechanical methods
Simplifies the entire drying operation through flexibility and automation
In soy product manufacturing and other food processing applications, the ThermaJet Flash Dryer is a wise choice over rotary and/or tubular dryers. The simplicity of operation, lower maintenance costs and larger capacities make it an ideal alternative. The equipment is shipped assembled, as much as possible, and only requires general piping, wiring, insulation, and interconnecting ductwork upon delivery.
For over 40 years Fluid Energy has installed ThermaJet Flash Dryers both domestically and internationally.
For more information on the ThermaJet Flash Dryer Systems, or any other powder processing equipment, please contact Fluid Energy at 4300 Bethlehem Pike, Telford, PA 18969; phone: 215-721-8990; fax: 215-721-2355 or via e-Mail sales@fluidenergype.com.