Fluid Energy Processing and Equipment Company, offers the Model 10 ThermaJet, a flash drying system designed for the drying and calcining of iron oxide.
Two model 10 ThermaJet systems, arranged in a series, first dry wet yellow oxide cake with an initial moisture content of 40 percent to a deagglomerated yellow powder with 10 percent bound moisture. The second ThermaJet in the series calcines the yellow powder into fine, red powder containing less than 1 percent water. Drying temperatures run from an inlet of 800 degrees Fahrenheit to an outlet of 210 degrees Fahrenheit, while calcining temperatures run from an inlet of 1,300 degrees Fahrenheit to an outlet of 750 degrees Fahrenheit.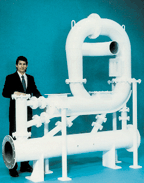 Each ThermaJet system includes a process blower, a natural gas-fired air heater, PC or PLC-based controls, ThermaJet with rotary feed, a reverse-pulse bag collector and a centrifugal exhaust fan. Due to the elevated exhaust temperatures of the calcining system, the Model 10 ThermaJet includes a Jet-O-Clone cyclone separator and an evaporative cooler, which is situated prior to the dust collector.
Fluid Energy's Capital Equipment Division, the world's largest jet mill supplier, represents over fifty years of experience in fine particle process technology. Vigorous product development efforts, supported by a securely rooted background in its industry, have made Fluid Energy a leader in its field.
For more information, contact Fluid Energy at 4300 Bethlehem Pike, Telford, PA 18969; phone 215-721-8990; fax 215-721-2355; e-mail sales@fluidenergype.com