Fluid Energy Processing and Equipment Company, recently introduced the Model 0808 Jet-O-Mizer mill grinding application.
The Model 0808 Jet-O-Mizer utilizes 1,200 to 2,200 scfm of air compressed to 100 psig for grinding. The Model 0808 Jet-O-Mizer is equipped with replaceable cast Nihard liners for superior abrasion resistance. The outlet comes complete with adjustable veins for fine-tuning the particle size distribution.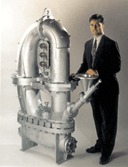 The unit is routinely used to grind carbon black, talc, calcium carbonate and kaolin. When grinding carbon black or minerals used in the filler industry, super-heated steam is usually used as the grinding fluid. Typical rates utilizing steam range from 2 to 7,000 pounds per hour. Steam requirements of the system reach up to 5,500 pounds per hour at 200 psig and 750 degrees Fahrenheit.
Jet-O-Mizer size reduction systems are vertically-oriented jet mills. These mills utilize tangential grinding nozzles located at the bottom of the unit, while static classification occurs at the top. Capable of grinding dry powders to 1 to 50 micron averages, these mills produce a narrow particle size distribution, consume less energy and are easy to feed with a wide variety of materials.
Fluid Energy's Capital Equipment Division, the world's largest jet mill supplier, represents over fifty years of experience in fine particle process technology. Vigorous product development efforts, supported by a securely rooted background in its industry, have made Fluid Energy a leader in its field.
For more information, contact Fluid Energy at 4300 Bethlehem Pike, Telford, PA 18969; phone 215-721-8990; fax 215-721-2355; e-mail sales@fluidenergype.com.